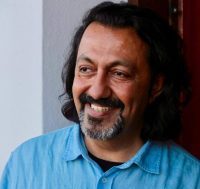 With over 23 years of experience being a meditator and teacher of meditation, Anil Chandwani possesses unique skills in his ability to translate and teach meditation to others. What makes his skills so unique is his experience as a successful serial entrepreneur who transformed his personal challenges and space by seamlessly bridging meditation into his daily living.

Along with NLP (Neuro-Linguistic Programming) and Clinical Hypnosis certifications, Anil is also trained in Breathe and Mindfulness, which allows him to weave in different ways of facilitating, and teaching that becomes unique to each individual, group or session that he offers. This unique ability allows participants to easily enter a space of meditation in a safe and exploratory way that can help deepen their understanding of the issues at hand and self.

Anil has facilitated courses and meditations for individuals and corporations across the globe including USA, China, Russia, Vietnam, Turkey, India and several countries across Europe.
Evenimente